Worrying news from Gloucestershire - DEFRA have confirmed the first verified sighting of the Asian Hornet in Tetbury. That's only 25 miles from here - a little close for comfort.
This is what they look like: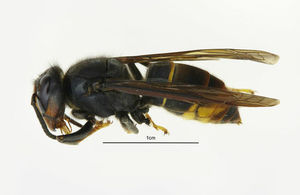 Asian hornets are predators that hunt honey bees, and can pose a risk to colonies - they are capable of killing a weaker colony.
DEFRA have more info here:
http://www.gov.uk/government/news/asian-hornet-identified-in-gloucestershire